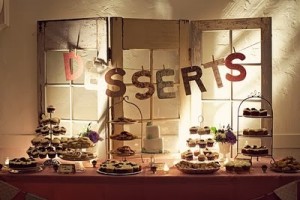 For people that love to eat sweets, dessert plays an important role in a good meal. As a matter of fact, they consider a good dessert as the end to a dinner they didn't enjoy. If you can relate with these people, it is very important that you find a good dessert idea for your wedding day.
Most of the time, the dessert served during a wedding are just slices of cake. While this is a traditional dessert pick, it is not the only dessert option available. As a matter of fact, dessert lovers are free to choose whatever dish they would like to serve on their wedding day. Here are some unique dessert ideas for your wedding day:
Caramel Apples
It is really surprising why there aren't plenty of people that serve caramel apples during their wedding. In fact, there should be more of these apples given out during special events. A good thing about caramel apples is that they can be adorned with any topping. You can also use this as a wedding favor to your guests.
Ice Cream Cones
You can rent a soft serve ice cream machine so your guests can have unlimited cups of ice cream. This is a really good way you can end your wedding night because everyone loves to eat ice cream.
Gelato
On that note, you can opt for a gelato bar if you are a fan of this instead of ice cream. This is a great way you can introduce this Italian favorite to your guests. Since plenty still do not know the difference between ice cream and gelato, this is the perfect opportunity.
Mini Pies and Cupcakes
Another option is to serve mini slices of pie and cupcakes. The good thing about serving mini desserts is that your guests will be pleased with the portion they were given. They do not need to finish a whole slice of pie or cupcake, especially if they are on a diet.
You can also combine all the options above and offer a dessert bar. Because when you love desserts, what's there to stop you from enjoying everything; especially when you have bite-sized servings. Get in touch with us today so we can help you set up a dessert bar on your wedding day.