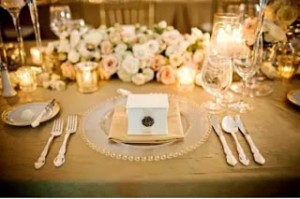 When it comes to planning your wedding reception, you have to be careful when choosing the menu. The food you serve during your wedding needs to be enough for the number of guests you have invited. At the same time, it also needs to be delicious. This is why you need to carefully consider what type of wedding reception menu you will be serving. Most importantly, what type of reception it is.
Here is a brief summary of the different options on how you can serve food during your wedding reception:
Sit-Down Dinner
An important thing you have to remember about sit-down dinners is that they take time in enjoying. It is a fancy dinner service for those who do not have a lot of plans for the rest of the evening. Most of the time, this is a preferred option because it is a fancier way to serve food to your guests. It is also a cheaper option because your wedding caterer can portion the food he will be serving during your reception. As a result, there is no shortage of food.
Buffet
If you have a larger budget for your wedding reception, you can opt for a buffet dinner. This is a good option if you have a guest list of more than 100 people. But because there is the risk of running out of food, you can ask your caterer to provide a staff member to serve your guests. This way, you can eliminate guests that get extra food for themselves.
Cocktail Party
A cheaper wedding reception is to serve hors d'oeuvres instead of a full course dinner. This is particularly suitable if you have the reception scheduled after dinner. By indicating this on your wedding invitations, your guests will assume that they will have to eat some food before the ceremony. A cocktail party is also good if you only have a few hours to use the venue.
Learn more about the different types of wedding reception and how you can serve food to your guests depending on your budget. Give us a call today so we can help you with your options.